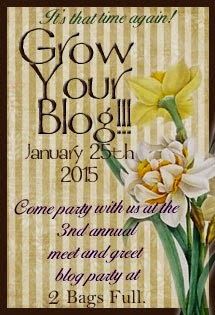 Especially to everyone visiting from Vicki's Grow Your Blog Party! My name is Elizabeth Braun (pronounced almost the same as 'Brown') and I'm from Yorkshire in the United Kingdom. I'm 43 at the mo and have been married to my German hubby, Martin, for 16 years in June this year. We have no kids and no pets, but plenty of cuddly toys. =) Just now we're living in Sheffield, but will probably be moving this summer, either back to my hometown of Leeds, or somewhere else, depending on where he finds a job when he's finished his PhD. This picture was taken when we were in Japan back in summer 2010. I was dressed up in a kimono and had some photos taken. (See more
about that in this post
.)
Although I've started a number of blogs on different topics in recent years, this one has been the one I've given the most time to and that has gained by far the biggest readership. I began it almost 10 years ago, on 25 June 2005, as a means of documenting my completion of some overdue projects. From there, I kept on recording the progress of my embroidery projects of many types. Here are some of my favourite pieces from over the last decade. Enjoy!
As you can see, embroidery is my main art form, (although I do a little knitting and paper-based art too at times) and I've done quite a number of different types over the last 12 years or so. Things are a little slow here whilst we're dealing with a number of family and health related issues, but should get back to normal in the fullness of time.
Sorry it's a rather short intro this year and I haven't had chance to put together a give-away either! =( If you'd like to know a bit more about little old me, then you might want to have a look at one of my other blogs,
Fluffy Little Idiot
, where I'm currently doing a 30 Day Blogging Challenge in which I talk about various things - interests, goals, favourites and other snippets, each day. You might also like to stick around here for a few minutes and check out some of the past projects on the pages listed underneath the header photos. There are also pages dedicated to links to the embroidery tutorials and feature articles that have appeared in the past.
If you'd like to subscribe to my blog, you could add me to your Feedly, click the Blogger 'Follow' thingy, (if you're on Blogger, of course), click the Bloglovin' sub box, or submit your e-mail address in the other box you'll find on the sidebar. If you choose this latter option, remember that your subscription will not go live unless you follow the steps for verification.=) You can also add the blog Google+ page to your circles, if you use G+. Link, again, in the sidebar. Many, many thanks for your visit to my blog and interest in my work. xx Please feel free to leave me a comment and introduce yourself, or just plain say, 'Hi' and wave in passing!
=
)
One blog that you won't find on the GYB list this year as the writer has been too snowed under with work to get directly involved in the event, is Rachel's
Virtuosew Adventures
. Rachel is also an embroideress, who works mostly her own designs, (unlike me, as I work mostly others'). So, if you like needle arts, do check out her work too. =)
For those who are regular readers are wondering what's the why of this post, you can find out more on Vicki's blog,
2 Bags Full
, (dedicated mostly to knitting and her travels).
On this post
you can see the full listing of the participating blogs.
PS If you are a new blogger, you may enjoy this article I wrote last year with tips on
how to create an attractive crafts blog and build up a readership
. Enjoy!
Text and images © Elizabeth Braun 2015